Great Scott Gadgets
HackRF One
---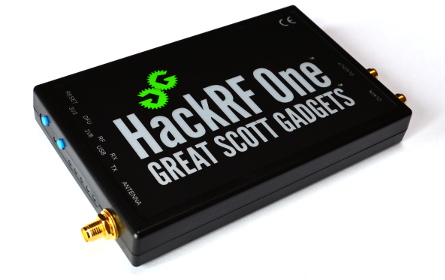 HackRF One from Great Scott Gadgets is a Software Defined Radio peripheral capable of transmission or reception of radio signals from 1 MHz to 6 GHz. Designed to enable test and development of modern and next generation radio technologies, HackRF One is an open source hardware platform that can be used as a USB peripheral or programmed for stand-alone operation.
1 MHz to 6 GHz operating frequency
half-duplex transceiver
up to 20 million samples per second
8-bit quadrature samples (8-bit I and 8-bit Q)
compatible with GNU Radio, SDR#, and more
software-configurable RX and TX gain and baseband filter
software-controlled antenna port power (50 mA at 3.3 V)
SMA female antenna connector
SMA female clock input and output for synchronization
convenient buttons for programming
internal pin headers for expansion
Hi-Speed USB 2.0
USB-powered
open source hardware
HackRF One has an injection molded plastic enclosure and ships with a micro USB cable. An antenna is not included. ANT500 is recommended as a starter antenna for HackRF One.
HackRF One is test equipment for RF systems. It has not been tested for compliance with regulations governing transmission of radio signals. You are responsible for using your HackRF One legally.
---
Purchasing
HackRF One is available from:
For HackRF One related products, please look at the HackRF product line page.
---
Documentation + Technical Information
For documentation, view the HackRF documents on Read the Docs or view the raw documentation sources in the docs folder in the HackRF repository. Source code and hardware design files are available in the latest release or in the git repository.
---
Getting Help
Before asking for help with HackRF, check to see if your question is listed in the FAQ.
For assistance with HackRF general use or development, please look at the issues on the GitHub project. This is the preferred place to ask questions so that others may locate the answer to your question in the future.
We invite you to join our community discussions on Discord. Note that while technical support requests are welcome here, we do not have support staff on duty at all times. Be sure to also submit an issue on GitHub if you've found a bug or if you want to ensure that your request will be tracked and not overlooked.
If you wish to see past discussions and questions about HackRF, you may also view the mailing list archives.
---
Training
To learn more about how to use HackRF, please take a look at our Software Defined Radio video series by Michael Ossmann or attend one of our in-person training classes.