Great Scott Gadgets
Daisho
---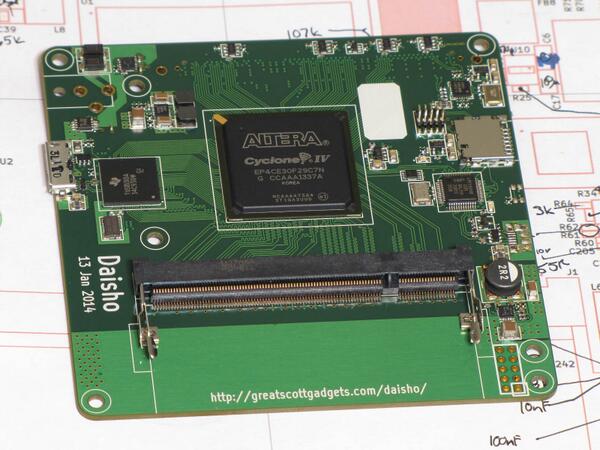 Daisho is a SuperSpeed USB 3.0 FPGA platform. The Daisho Platform is intended for operation as a pair of components:
A mainboard with an FPGA can connect to a back-end computer via SuperSpeed USB.
A front-end board for a particular application connects to the mainboard via a high speed parallel connector.
Front-end boards are planned that enable in-line monitoring and injection for high speed wired communication media. Daisho can also function as a development platform for building your own SuperSpeed USB 3.0 devices.
For an introduction to the project, check out this blog and video.
---
Project Status
The mainboard and four front-end modules (Gigabit Ethernet, Superspeed USB 3.0, HDMI, and RS-232) have been designed. Prototype hardware is being produced slowly. We have code for some front-end modules but not all. The Daisho USB device core is complete and has been tested for complaince.
---
Documentation + Technical Information
For documentation and open source design files, visit the project wiki.